Biography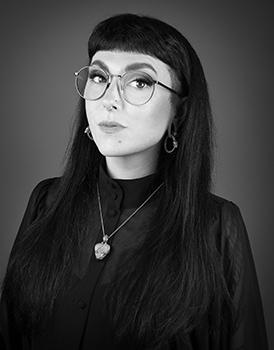 Audrey Piguet (08.07.1989) is a photographer graduated with honorable mention in 2012 from the photographic school of Vevey (CEPV). Since 2013, Audrey owns her own company and works as a freelance photographer. She navigates between commercial works (fashion and advertising) and her artistic work. Creatively minded, she designs all of the hairstyles, make-up and accessories, which appear in her photographs. She regularly gives workshops and trainings in the field of photography and image analysis, and also works part-time as an assistant for the acquisition management of Photo Elysée.
Her work has been the subject of numerous publications and awards, including the second prize for Young Swiss Talent in Photography and a selection by MAGNUM Photos. She has had more than forty solo and group exhibitions in Switzerland, France, Croatia, but also in Spain, Germany and the United States. Her first monograph "Dark Glow" was published in 2014 by l'Âge d'Homme.
Some of her photographs are part of private and public collections, such as the Maison d'Ailleurs Museum (CH) or the Center of Photography in Pennsylvania (USA). Since autumn 2020, she has joined the association "Espace Artistes Femmes" as an artist, but also as a member of the committee and responsible for cultural mediation. She is also a member of the VFG (association of creative photographers).
Exhibitions
2024
Exposition monographique: Centre Culturel de la Vidondée, Riddes, CH
2023
HÉROS - La chute du héros & Sous le masque: Galerie du Collège LE JORAN, Prévessin-Moëns, FR
La chute du héros: Labriq on the Wall, Lausanne, CH
Espace Artistes Femmes - "Celebrating Women Artists" - Funeral: Garage du Flon 16, Lausanne CH
2022
Funeral (Installation): L-Imprimerie, Lausanne, CH
Parasomnia: Museu de la Dona, Tossa, ESP
Êtres-là - Parasomnia: L-Imprimerie, Lausanne, CH
The forgotten Mermaid: Espace Artistes Femmes, Lausanne, CH
2021
Funeral: Incubateur Atelier Galerie, Bulle, CH
Equality: Maison de la Femme, Lausanne, CH
60 ans du CLAFV - Prix de l'égalité - Equality: Casino Montbenon, Lausanne, CH
25th anniversary of the VFG nwfp - Kairos: IPFO, Haus der Fotografie, Olten, CH
Memory exhibition - Kairos: SE Center for Photography, Greenville, USA
COVID and us by MAGNUM Photos and you - Kairos (projection): Musée de la Croix-Rouge et du Croissant-Rouge, Genève, CH
Les figures féministes à travers les âges - La chute du héros (sel.): Maison Visinand, Montreux, CH
2020
COVID and us by MAGNUM Photos and you - Kairos (projection): Musée de la Croix-Rouge et du Croissant-Rouge, Genève, CH
COVID and us by MAGNUM Photos and you - Kairos (projection): Kyoto International Photography Festival, Kyoto, JP
Women in Art - Parasomnia: FATart, Kammgarn West, Baumgartenstrasse 23, 8200 Schaffhausen, CH
Les Photographiques - Anthropocène (projection): Centre des Expositions Paul Courboulay, Mans, FR
Geneva Burlesque Festival - TBA: Casino Théâtre de Genève, Genève, CH
2019
Speed Arting, Winter Pop-up Market - Funeral, La chute du héros, the Forgotten Mermaid: Les Jumeaux, Flon, Lausanne, CH
The Black Silk Burlesque Show - Dark Glow (Livre): Via-Valentino Théâtre, Lausanne, CH
Wild Lips: XXe Café, Fribourg, CH
Funeral: XXe Café, Fribourg, CH
2018
Hypogée: Swiss Fantasy Show, Palais de Beaulieu, Lausanne, CH
2017
Transformation - M42: Center for Photography, Pennsylvania, USA
Hypogée: Les Mouettes, Vevey, CH
Funeral: NordArd 17, Büdelsdorf, DE
La chute du héros & Sous le Masque: Gare d'Anjou, Nantes, FR
2016
Chimères - Multiples: Galerie Zwahlen, Orbe, CH
2015
Superhéros 2.0 - La chute du héros & Sous le Masque: Lauba, Zagreb, HR
Funeral: Le Jardin de la Photographie, Bremblens-sur-Morges, CH
Livre Dark Glow: Cosmos Arles Book, les rencontres de la photographie, Arles, FR
Funeral & La chute du héros: Salon du livre, Palexpo, Genève, CH
Livre Dark Glow: Salon du livre, Palexpo, Genève, CH
2014
Sous le masque: Swiss Fantasy Show, Morges, CH
Sous le masque: Festival Cinémaddiction, Yverdon-les-Bains, CH
Diving into Creativity - Multiples: Galerie Villa Mégroz, Lutry, CH
Super-héros - La chute du héros: EPFL, White Box
Wild Lips: Espace Wider, Crissier, CH
Superman, Batman & Co...mics - La chute du héros: Maison d'ailleurs, Yverdon-les-Bains, CH
We are animals: Les Photographiques, Le Mans, FR
Funeral: Vida Loca, Bex, CH
2013
Funeral: Mario's Experiences, Vevey, CH
16. VFG Nachwuchsförderpreis - La chute du héros: Galerie Oslo 8, Bâle, CH
2012
16. VFG Nachwuchsförderpreis - La chute du héros: Jungkunst, Winterthur, CH
16. VFG Nachwuchsförderpreis - La chute du héros: Keystone (Projection), Zürich, CH
16. VFG Nachwuchsförderpreis - La chute du héros: Galerie ELAC, Lausanne, CH
16. VFG Nachwuchsförderpreis - La chute du héros: IMAGES12 (Projection), Vevey, CH
Vitrines CEPV - Skull: IMAGES12, Vevey, CH
16. VFG Nachwuchsförderpreis - La chute du héros: Journées Photographiques (Projection), Bienne, CH
Prizes
2022
Circle Foundation of the Arts: Kairos - Award of Excellence
PX3 - Prix de la Photographie, Paris: Parasomnia - Honorable Mention
ND Awards: (We)are Paths - Honorable Mention
ND Awards: Kairos - Honorable Mention
2021
Memory - SE Center for Photography: Kairos - Selection
2020
Les Photographiques: Anthropocene - Sélection
MAGNUM Photos - COVID and us by Magnum Photos and you (movie): Kairos - Selection
2017
NordArt: Funeral - Selection
ND Awards: Hypogée - Honorable mention
Pennsylvania Center for Photography: M42 - Selection
2016
Int'l Photography Award: Wild Lips - Honorable mention
2014
Festival les Photographiques: We are animals - Selection
2012
I shot it (Leica): 1st prize
Prix des jeunes talents VFG Nachwuchsförderpreis: La chute du héros - 2nd prize
Publications
Monograph
Dark Glow - L'Âge d'Homme, 2014, 9782825144848 (buy)
Catalogues
Press
Printed